About Us
Masala Tandoori is a Indian takeaway in Newton Aycliffe. Why don't you try our Jubally or Egg Pilau Rice?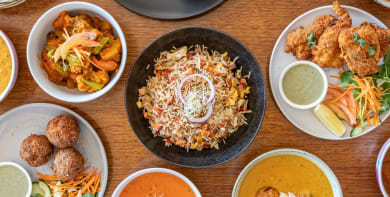 Reviews
174 reviews
Steve
"Great service, great food, great value. Once again a lovely treat"
15/01/2021
N
"Fantastic meal as usual. Delivered on time with food piping hot. This Indian never fails to deliver on good quality fantastic tasting food. Would definitely recommend. You won't be disappointed."
10/01/2021
Rachel
"Delivered early and food was delicious"
09/01/2021
Abigail
"Love this restaurant and delivery is always early Couldn't ask for more"
08/01/2021
Menu
Fish Finger & Chips
With fruit shoot drink
£4.95
Chicken Nagged & Chips
With fruit shoot drinks
£4.95
Masala Mix Platter Box
1 Piece Tandoori Chicken :
1 Piece Sheekh Kebab
2 Pieces Chicken Tikka
2 Pieces Samosa
1 Onion Bhaji
Chips and Curry Sauce
Rice ,Salad & Mint Susce
£12.95
Tikka Roll
Succulent pieces of chicken tikka cooked with onions & wrapped in naan bread
£4.50
Chicken Tikka Wrap Meal
Chips, any curry susce & drink
£8.95
Paneer Butter Masala
Medium hot
£2.70
Saag Paneer Malai
Medium hot
£2.70
Any Curry Sauce Rogan Josh
£2.95
Set Meat for 1
Available everyday
Chicken tikka starter
Chicken tikka masala
Bombay aloo
Pilau rice
Plain naan
Poppadoms (2)
Pickle tray
£13.95
Set Meal for 2
Available everyday
Chicken tikka starter
Onion bhaji
Chicken jaipuri
Chicken pasanda
Bombay aloo
Pilau rice
Special fried rice
Keema naan
Poppadoms (3)
Pickle tray
£24.95
Tandoori Mixed Kebab
Chicken tikka, lamb tikka, seekh kebab
£3.95
Chef's Special Kebab
Onion bhaji, chicken tikka, seekh kebab
£3.75
Peshwari Naan
Contains nuts
£2.50
Tikka Garlic & Coriander Naan
£2.50
Keema Garlic & Coriander Naan
£2.50
Masala Tandoori King Prawn
£9.95
Kebab Karahi
Seekh kebab cooked spices
Herbs & pepper in rich sauce
£6.95
Tandoori Butter Chicken
Cooked in a rich butter sauce
£6.95
Sylhet Chicken Tikka
Marinated onions, tomatoes & capsicum, charcoal grilled in tandoori clay oven, then cooked in very special thick sauce
Very hot
£6.95
Sylhet Lamb Tikka
Marinated onions, tomatoes & capsicum, charcoal grilled in tandoori clay oven, then cooked in very special thick sauce
Very hot
£6.95
Sylhet King Prawn
Marinated onions, tomatoes & capsicum, charcoal grilled in tandoori clay oven, then cooked in very special thick sauce
Very hot
£9.95
Jubally Chicken Tikka
Fresh ginger, garlic, green chilli, coriander - a dry dish
Hot
£6.95
Jubally Lamb Tikka
Fresh ginger, garlic, green chilli, coriander - a dry dish
Hot
£6.95
Jubally King Prawn
Fresh ginger, garlic, green chilli, coriander - a dry dish
Hot
£9.95
Pubally Chicken
Marinated onions, tomatoes, capsicum, charcoal grilled in tandoori clay oven, then cooked in a very special thick sauce
Mild
£6.95
Pubally Lamb
Marinated onions, tomatoes, capsicum, charcoal grilled in tandoori clay oven, then cooked in a very special thick sauce
Mild
£6.95
Pubally King Prawn
Marinated onions, tomatoes, capsicum, charcoal grilled in tandoori clay oven, then cooked in a very special thick sauce
Mild
£9.95
Naga Chicken Tikka
Highly recommended for a hot curry flavour, specially cooked in as thick sauce with herbs & spices with a special cobra chilli, gives more hotness & flavour
Hot & spicy
£6.95
Naga Lamb Tikka
Highly recommended for a hot curry flavour, specially cooked in as thick sauce with herbs & spices with a special cobra chilli, gives more hotness & flavour
Hot & spicy
£6.95
Naga King Prawn
Highly recommended for a hot curry flavour, specially cooked in as thick sauce with herbs & spices with a special cobra chilli, gives more hotness & flavour
Hot & spicy
£9.95
Makhani Chicken Tikka
Cooked with ground almonds & finished in a mild delicious sauce (contains nuts)
Mild
£6.95
Makhani Lamb Tikka
Cooked with ground almonds & finished in a mild delicious sauce (contains nuts)
Mild
£6.95
Makhani King Prawn
Cooked with ground almonds & finished in a mild delicious sauce (contains nuts)
Mild
£9.95
Exotica Chicken Tikka
Cooked with mango pulp, garlic, fresh coriander, ground almonds & coconut, finished with fresh cream (contains nuts)
Mild
£6.95
Exotica Lamb Tikka
Cooked with mango pulp, garlic, fresh coriander, ground almonds & coconut, finished with fresh cream (contains nuts)
Mild
£6.95
Exotica King Prawn
Cooked with mango pulp, garlic, fresh coriander, ground almonds & coconut, finished with fresh cream (contains nuts)
Mild
£9.95
Pasanda Chicken Tikka
A delicious dish cooked with ground almonds, ground coconut & finished with fresh cream creating a very smooth & mild dish (contains nuts)
Mild
£6.95
Pasanda Lamb Tikka
A delicious dish cooked with ground almonds, ground coconut & finished with fresh cream creating a very smooth & mild dish (contains nuts)
Mild
£6.95
Pasanda King Prawn
A delicious dish cooked with ground almonds, ground coconut & finished with fresh cream creating a very smooth & mild dish (contains nuts)
Mild
£9.95
Green Herb Chicken
Cooked with peeled tomato, green peppers & a combination of North Indian herbs
Medium hot
£6.95
Green Herb Lamb
Cooked with peeled tomato, green peppers & a combination of North Indian herbs
Medium hot
£6.95
Green Herb King Prawn
Cooked with peeled tomato, green peppers & a combination of North Indian herbs
Medium hot
£9.95
Jaipur Chicken Tikka
Cooked with fried mushrooms, onions & capsicums with fresh punjabi masala in thick sauce
Highly recommended
Medium hot
£6.95
Jaipur Lamb Tikka
Cooked with fried mushrooms, onions & capsicums with fresh punjabi masala in thick sauce
Highly recommended
Medium hot
£6.95
Jaipur King Prawn
Cooked with fried mushrooms, onions & capsicums with fresh punjabi masala in thick sauce
Highly recommended
Medium hot
£9.95
Garlic Chicken Tikka
Cooked with garlic, fresh herbs & spices, garnished with coriander & tomato
Medium hot
£6.95
Garlic Lamb Tikka
Cooked with garlic, fresh herbs & spices, garnished with coriander & tomato
Medium hot
£6.95
Garlic King Prawn
Cooked with garlic, fresh herbs & spices, garnished with coriander & tomato
Medium hot
£9.95
Rongpur Chicken
Mince meat cooked in bhuna sauce, touch of lemon, tomato sauce, fresh herbs, green peppers & coriander
Medium hot
£6.95
Rongpur Lamb
Mince meat cooked in bhuna sauce, touch of lemon, tomato sauce, fresh herbs, green peppers & coriander
Medium hot
£6.95
Rongpur King Prawn
Mince meat cooked in bhuna sauce, touch of lemon, tomato sauce, fresh herbs, green peppers & coriander
Medium hot
£9.95
Shatkora Chicken
Cooked in a medium hot bhuna sauce made with finely chopped special flavoured Bangladeshi fruit
Medium hot
£6.95
Shatkora Lamb
Cooked in a medium hot bhuna sauce made with finely chopped special flavoured Bangladeshi fruit
Medium hot
£6.95
Shatkora King Prawn
Cooked in a medium hot bhuna sauce made with finely chopped special flavoured Bangladeshi fruit
Medium hot
£9.95
Achari Chicken
Cooked in a bhuna sauce cooked with mixed pickle, spring onions, green pepper, fresh coriander, touch of garlic & ginger
Medium hot
£6.95
Achari Lamb
Cooked in a bhuna sauce cooked with mixed pickle, spring onions, green pepper, fresh coriander, touch of garlic & ginger
Medium hot
£6.95
Achari King Prawn
Cooked in a bhuna sauce cooked with mixed pickle, spring onions, green pepper, fresh coriander, touch of garlic & ginger
Medium hot
£9.95
Rasulpur Chicken Tikka
Cooked with spring onions & capsicums with fresh coriander, green chillies in a hot tomato & garlic sauce
Fairly hot
£6.95
Rasulpur Lamb Tikka
Cooked with spring onions & capsicums with fresh coriander, green chillies in a hot tomato & garlic sauce
Fairly hot
£6.95
Rasulpur King Prawn
Cooked with spring onions & capsicums with fresh coriander, green chillies in a hot tomato & garlic sauce
Fairly hot
£9.95
Chilli Masala Chicken
Cooked in a hot bhuna sauce made using chilli pickle & green chillies garnished with garlic, ginger & fresh coriander
Hot & spicy
£6.95
Chilli Masala Lamb
Cooked in a hot bhuna sauce made using chilli pickle & green chillies garnished with garlic, ginger & fresh coriander
Hot & spicy
£6.95
Chilli Masala King Prawn
Cooked in a hot bhuna sauce made using chilli pickle & green chillies garnished with garlic, ginger & fresh coriander
Hot & spicy
£9.95
Katmandu Chicken Tikka
Cooked in cinnamon, spring onions & lentil sauce with a touch of fresh ginger
Fairly hot
£6.95
Katmandu Lamb Tikka
Cooked in cinnamon, spring onions & lentil sauce with a touch of fresh ginger
Fairly hot
£6.95
Katmandu King Prawn
Cooked in cinnamon, spring onions & lentil sauce with a touch of fresh ginger
Fairly hot
£9.95
Green Bengal Chicken
Cooked with green pepper, peeled tomato, fresh coriander, green chilli, mixed spices & lime juice
Hot & spicy
£6.95
Green Bengal Lamb
Cooked with green pepper, peeled tomato, fresh coriander, green chilli, mixed spices & lime juice
Hot & spicy
£6.95
Green Bengal King Prawn
Cooked with green pepper, peeled tomato, fresh coriander, green chilli, mixed spices & lime juice
Hot & spicy
£9.95
North Indian Chilli Garlic Chicken
Cooked in a hot chilli garlic sauce, garnished with fresh coriander
Hot & spicy
£6.95
North Indian Chilli Garlic Lamb
Cooked in a hot chilli garlic sauce, garnished with fresh coriander
Hot & spicy
£6.95
North Indian Chilli Garlic King Prawn
Cooked in a hot chilli garlic sauce, garnished with fresh coriander
Hot & spicy
£9.95
Mint Chicken
Gently cooked with fresh mint, mixed spices, onions & fresh coriander
£6.95
Mint King Prawn
Gently cooked with fresh mint, mixed spices, onions & fresh coriander
£9.95
Rezala Chicken
Cooked with braised onions, mixed slices, herbs, fresh cream & coriander
£6.95
Rezala Lamb
Cooked with braised onions, mixed slices, herbs, fresh cream & coriander
£6.95
Rezala King Prawn
Cooked with braised onions, mixed slices, herbs, fresh cream & coriander
£9.95
Delhi Karai Chicken Tikka
Fairly hot dish with garlic, green chillies, peppers & tomatoes
Hot & spicy
£6.95
Delhi Karai Lamb Tikka
Fairly hot dish with garlic, green chillies, peppers & tomatoes
Hot & spicy
£6.95
Delhi Karai King Prawn
Fairly hot dish with garlic, green chillies, peppers & tomatoes
Hot & spicy
£9.95
Hariali Chicken
Cooked again with fresh crushed garlic, ginger, green chillies, coriander, pinch of sugar, cream & spinach
Mild
£6.95
Hariali King Prawn
Cooked again with fresh crushed garlic, ginger, green chillies, coriander, pinch of sugar, cream & spinach
Mild
£9.95
Tandoori Butter King Prawn
Cooked in a rich butter sauce
£9.95
Bengal Surprise
Tender lamb, cooked with cream, sliced mushrooms, coriander, lemon & ginger
£6.95
House Special Curry
Chicken tikka, lamb tikka & king prawns, cooked with medium hot spices, topped with egg omelette
Medium hot
£6.95
Balti Chicken
A homemade style curry with fresh spices & ingredients of North-Pakistani cuisine
Ingredients including coriander, peppers & tomatoes, perfectly fused to create a medium hot dish
£5.95
Balti Lamb
A homemade style curry with fresh spices & ingredients of North-Pakistani cuisine
Ingredients including coriander, peppers & tomatoes, perfectly fused to create a medium hot dish
£5.95
Balti Prawn
A homemade style curry with fresh spices & ingredients of North-Pakistani cuisine
Ingredients including coriander, peppers & tomatoes, perfectly fused to create a medium hot dish
£5.95
Balti Chicken Tikka
A homemade style curry with fresh spices & ingredients of North-Pakistani cuisine
Ingredients including coriander, peppers & tomatoes, perfectly fused to create a medium hot dish
£6.50
Balti Lamb Tikka
A homemade style curry with fresh spices & ingredients of North-Pakistani cuisine
Ingredients including coriander, peppers & tomatoes, perfectly fused to create a medium hot dish
£6.50
Balti King Prawn
A homemade style curry with fresh spices & ingredients of North-Pakistani cuisine
Ingredients including coriander, peppers & tomatoes, perfectly fused to create a medium hot dish
£9.95
Korma (Mild) Chicken Tikka
£6.50
Kashmiri (Mild) Vegetable
£4.75
Kashmiri (Mild) Chicken Tikka
£6.50
Kashmiri (Mild) Lamb Tikka
£7.95
Kashmiri (Mild) King Prawn
£8.95
Cashew Nut Pilau Rice
Contains nuts
£2.95
Biryani Chicken
A biryani is a special preparation of saffron rice prepared together with meat or vegetables in puree ghee with a blend of delicate spices & herbs
It offers a self contained dish & is served with vegetable curry
£7.95
Biryani Lamb
A biryani is a special preparation of saffron rice prepared together with meat or vegetables in puree ghee with a blend of delicate spices & herbs
It offers a self contained dish & is served with vegetable curry
£7.95
Biryani Prawn
A biryani is a special preparation of saffron rice prepared together with meat or vegetables in puree ghee with a blend of delicate spices & herbs
It offers a self contained dish & is served with vegetable curry
£7.95
Biryani Chicken Tikka
A biryani is a special preparation of saffron rice prepared together with meat or vegetables in puree ghee with a blend of delicate spices & herbs
It offers a self contained dish & is served with vegetable curry
£8.95
Biryani Lamb Tikka
A biryani is a special preparation of saffron rice prepared together with meat or vegetables in puree ghee with a blend of delicate spices & herbs
It offers a self contained dish & is served with vegetable curry
£8.95
Biryani Vegetable
A biryani is a special preparation of saffron rice prepared together with meat or vegetables in puree ghee with a blend of delicate spices & herbs
It offers a self contained dish & is served with vegetable curry
£5.95
Biryani Special Mixed
A biryani is a special preparation of saffron rice prepared together with meat or vegetables in puree ghee with a blend of delicate spices & herbs
It offers a self contained dish & is served with vegetable curry
£8.95
Thursday & Sunday Special
1 poppadom
Onion salad
Any starter
(King prawns £2.00)
Any main course from traditional dishes
(Lamb tikka £1 extra, King prawn £3.50 extra)
Pilau rice & plain naan
£9.95
Tandoori Mixed Grill
Chicken tikka, lamb tikka, seekh kebab, tandoori chicken & king prawn
£9.95
Contact Us
Find Us
8 Cobblers Hall, Carers Way, Newton Aycliffe, DL54SE
We deliver to
DL17, DL4, DL5