About Us
Masala Tandoori is a Indian takeaway in Newton Aycliffe. Why don't you try our Jubally or Egg Pilau Rice?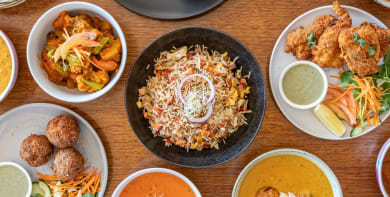 Reviews
143 reviews
Andy
"Great service. Thank you"
29/05/2020
Cheryl
"Ordered from masala A few times now always on time with delivery and hot and very well packaged and presented"
28/05/2020
Shona
"Food was slightly late but really worth the wait, still hot . My teens have voted for Masala Tandoori takeaway twice in a row because they enjoy the food so much."
23/05/2020
Larry
"The food is excellent every time."
16/05/2020
Menu
Tikka Roll
Succulent pieces of chicken tikka cooked with onions & wrapped in naan bread
£4.00
Paneer Butter Masala
Medium hot
£2.70
Saag Paneer Malai
Medium hot
£2.70
Any Curry Sauce Rogan Josh
£2.95
Set Meat for 1
Available everyday
Chicken tikka starter
Chicken tikka masala
Bombay aloo
Pilau rice
Plain naan
Poppadoms (2)
Pickle tray
£13.95
Set Meal for 2
Available everyday
Chicken tikka starter
Onion bhaji
Chicken jaipuri
Chicken pasanda
Bombay aloo
Pilau rice
Special fried rice
Keema naan
Poppadoms (3)
Pickle tray
£24.95
Tandoori Mixed Kebab
Chicken tikka, lamb tikka, seekh kebab
£3.95
Chef's Special Kebab
Onion bhaji, chicken tikka, seekh kebab
£3.75
Peshwari Naan
Contains nuts
£2.50
Tikka Garlic & Coriander Naan
£2.50
Keema Garlic & Coriander Naan
£2.50
Masala Tandoori King Prawn
£9.95
Kebab Karahi
Seekh kebab cooked spices
Herbs & pepper in rich sauce
£6.95
Tandoori Butter Chicken
Cooked in a rich butter sauce
£6.95
Sylhet Chicken Tikka
Marinated onions, tomatoes & capsicum, charcoal grilled in tandoori clay oven, then cooked in very special thick sauce
Very hot
£6.95
Sylhet Lamb Tikka
Marinated onions, tomatoes & capsicum, charcoal grilled in tandoori clay oven, then cooked in very special thick sauce
Very hot
£6.95
Sylhet King Prawn
Marinated onions, tomatoes & capsicum, charcoal grilled in tandoori clay oven, then cooked in very special thick sauce
Very hot
£9.95
Jubally Chicken Tikka
Fresh ginger, garlic, green chilli, coriander - a dry dish
Hot
£6.95
Jubally Lamb Tikka
Fresh ginger, garlic, green chilli, coriander - a dry dish
Hot
£6.95
Jubally King Prawn
Fresh ginger, garlic, green chilli, coriander - a dry dish
Hot
£9.95
Pubally Chicken
Marinated onions, tomatoes, capsicum, charcoal grilled in tandoori clay oven, then cooked in a very special thick sauce
Mild
£6.95
Pubally Lamb
Marinated onions, tomatoes, capsicum, charcoal grilled in tandoori clay oven, then cooked in a very special thick sauce
Mild
£6.95
Pubally King Prawn
Marinated onions, tomatoes, capsicum, charcoal grilled in tandoori clay oven, then cooked in a very special thick sauce
Mild
£9.95
Naga Chicken Tikka
Highly recommended for a hot curry flavour, specially cooked in as thick sauce with herbs & spices with a special cobra chilli, gives more hotness & flavour
Hot & spicy
£6.95
Naga Lamb Tikka
Highly recommended for a hot curry flavour, specially cooked in as thick sauce with herbs & spices with a special cobra chilli, gives more hotness & flavour
Hot & spicy
£6.95
Naga King Prawn
Highly recommended for a hot curry flavour, specially cooked in as thick sauce with herbs & spices with a special cobra chilli, gives more hotness & flavour
Hot & spicy
£9.95
Makhani Chicken Tikka
Cooked with ground almonds & finished in a mild delicious sauce (contains nuts)
Mild
£6.95
Makhani Lamb Tikka
Cooked with ground almonds & finished in a mild delicious sauce (contains nuts)
Mild
£6.95
Makhani King Prawn
Cooked with ground almonds & finished in a mild delicious sauce (contains nuts)
Mild
£9.95
Exotica Chicken Tikka
Cooked with mango pulp, garlic, fresh coriander, ground almonds & coconut, finished with fresh cream (contains nuts)
Mild
£6.95
Exotica Lamb Tikka
Cooked with mango pulp, garlic, fresh coriander, ground almonds & coconut, finished with fresh cream (contains nuts)
Mild
£6.95
Exotica King Prawn
Cooked with mango pulp, garlic, fresh coriander, ground almonds & coconut, finished with fresh cream (contains nuts)
Mild
£9.95
Pasanda Chicken Tikka
A delicious dish cooked with ground almonds, ground coconut & finished with fresh cream creating a very smooth & mild dish (contains nuts)
Mild
£6.95
Pasanda Lamb Tikka
A delicious dish cooked with ground almonds, ground coconut & finished with fresh cream creating a very smooth & mild dish (contains nuts)
Mild
£6.95
Pasanda King Prawn
A delicious dish cooked with ground almonds, ground coconut & finished with fresh cream creating a very smooth & mild dish (contains nuts)
Mild
£9.95
Green Herb Chicken
Cooked with peeled tomato, green peppers & a combination of North Indian herbs
Medium hot
£6.95
Green Herb Lamb
Cooked with peeled tomato, green peppers & a combination of North Indian herbs
Medium hot
£6.95
Green Herb King Prawn
Cooked with peeled tomato, green peppers & a combination of North Indian herbs
Medium hot
£9.95
Jaipur Chicken Tikka
Cooked with fried mushrooms, onions & capsicums with fresh punjabi masala in thick sauce
Highly recommended
Medium hot
£6.95
Jaipur Lamb Tikka
Cooked with fried mushrooms, onions & capsicums with fresh punjabi masala in thick sauce
Highly recommended
Medium hot
£6.95
Jaipur King Prawn
Cooked with fried mushrooms, onions & capsicums with fresh punjabi masala in thick sauce
Highly recommended
Medium hot
£9.95
Garlic Chicken Tikka
Cooked with garlic, fresh herbs & spices, garnished with coriander & tomato
Medium hot
£6.95
Garlic Lamb Tikka
Cooked with garlic, fresh herbs & spices, garnished with coriander & tomato
Medium hot
£6.95
Garlic King Prawn
Cooked with garlic, fresh herbs & spices, garnished with coriander & tomato
Medium hot
£9.95
Rongpur Chicken
Mince meat cooked in bhuna sauce, touch of lemon, tomato sauce, fresh herbs, green peppers & coriander
Medium hot
£6.95
Rongpur Lamb
Mince meat cooked in bhuna sauce, touch of lemon, tomato sauce, fresh herbs, green peppers & coriander
Medium hot
£6.95
Rongpur King Prawn
Mince meat cooked in bhuna sauce, touch of lemon, tomato sauce, fresh herbs, green peppers & coriander
Medium hot
£9.95
Shatkora Chicken
Cooked in a medium hot bhuna sauce made with finely chopped special flavoured Bangladeshi fruit
Medium hot
£6.95
Shatkora Lamb
Cooked in a medium hot bhuna sauce made with finely chopped special flavoured Bangladeshi fruit
Medium hot
£6.95
Shatkora King Prawn
Cooked in a medium hot bhuna sauce made with finely chopped special flavoured Bangladeshi fruit
Medium hot
£9.95
Achari Chicken
Cooked in a bhuna sauce cooked with mixed pickle, spring onions, green pepper, fresh coriander, touch of garlic & ginger
Medium hot
£6.95
Achari Lamb
Cooked in a bhuna sauce cooked with mixed pickle, spring onions, green pepper, fresh coriander, touch of garlic & ginger
Medium hot
£6.95
Achari King Prawn
Cooked in a bhuna sauce cooked with mixed pickle, spring onions, green pepper, fresh coriander, touch of garlic & ginger
Medium hot
£9.95
Rasulpur Chicken Tikka
Cooked with spring onions & capsicums with fresh coriander, green chillies in a hot tomato & garlic sauce
Fairly hot
£6.95
Rasulpur Lamb Tikka
Cooked with spring onions & capsicums with fresh coriander, green chillies in a hot tomato & garlic sauce
Fairly hot
£6.95
Rasulpur King Prawn
Cooked with spring onions & capsicums with fresh coriander, green chillies in a hot tomato & garlic sauce
Fairly hot
£9.95
Chilli Masala Chicken
Cooked in a hot bhuna sauce made using chilli pickle & green chillies garnished with garlic, ginger & fresh coriander
Hot & spicy
£6.95
Chilli Masala Lamb
Cooked in a hot bhuna sauce made using chilli pickle & green chillies garnished with garlic, ginger & fresh coriander
Hot & spicy
£6.95
Chilli Masala King Prawn
Cooked in a hot bhuna sauce made using chilli pickle & green chillies garnished with garlic, ginger & fresh coriander
Hot & spicy
£9.95
Katmandu Chicken Tikka
Cooked in cinnamon, spring onions & lentil sauce with a touch of fresh ginger
Fairly hot
£6.95
Katmandu Lamb Tikka
Cooked in cinnamon, spring onions & lentil sauce with a touch of fresh ginger
Fairly hot
£6.95
Katmandu King Prawn
Cooked in cinnamon, spring onions & lentil sauce with a touch of fresh ginger
Fairly hot
£9.95
Green Bengal Chicken
Cooked with green pepper, peeled tomato, fresh coriander, green chilli, mixed spices & lime juice
Hot & spicy
£6.95
Green Bengal Lamb
Cooked with green pepper, peeled tomato, fresh coriander, green chilli, mixed spices & lime juice
Hot & spicy
£6.95
Green Bengal King Prawn
Cooked with green pepper, peeled tomato, fresh coriander, green chilli, mixed spices & lime juice
Hot & spicy
£9.95
North Indian Chilli Garlic Chicken
Cooked in a hot chilli garlic sauce, garnished with fresh coriander
Hot & spicy
£6.95
North Indian Chilli Garlic Lamb
Cooked in a hot chilli garlic sauce, garnished with fresh coriander
Hot & spicy
£6.95
North Indian Chilli Garlic King Prawn
Cooked in a hot chilli garlic sauce, garnished with fresh coriander
Hot & spicy
£9.95
Mint Chicken
Gently cooked with fresh mint, mixed spices, onions & fresh coriander
£6.95
Mint King Prawn
Gently cooked with fresh mint, mixed spices, onions & fresh coriander
£9.95
Rezala Chicken
Cooked with braised onions, mixed slices, herbs, fresh cream & coriander
£6.95
Rezala Lamb
Cooked with braised onions, mixed slices, herbs, fresh cream & coriander
£6.95
Rezala King Prawn
Cooked with braised onions, mixed slices, herbs, fresh cream & coriander
£9.95
Delhi Karai Chicken Tikka
Fairly hot dish with garlic, green chillies, peppers & tomatoes
Hot & spicy
£6.95
Delhi Karai Lamb Tikka
Fairly hot dish with garlic, green chillies, peppers & tomatoes
Hot & spicy
£6.95
Delhi Karai King Prawn
Fairly hot dish with garlic, green chillies, peppers & tomatoes
Hot & spicy
£9.95
Hariali Chicken
Cooked again with fresh crushed garlic, ginger, green chillies, coriander, pinch of sugar, cream & spinach
Mild
£6.95
Hariali King Prawn
Cooked again with fresh crushed garlic, ginger, green chillies, coriander, pinch of sugar, cream & spinach
Mild
£9.95
Tandoori Butter King Prawn
Cooked in a rich butter sauce
£9.95
Bengal Surprise
Tender lamb, cooked with cream, sliced mushrooms, coriander, lemon & ginger
£6.95
House Special Curry
Chicken tikka, lamb tikka & king prawns, cooked with medium hot spices, topped with egg omelette
Medium hot
£6.95
Balti Chicken
A homemade style curry with fresh spices & ingredients of North-Pakistani cuisine
Ingredients including coriander, peppers & tomatoes, perfectly fused to create a medium hot dish
£5.95
Balti Lamb
A homemade style curry with fresh spices & ingredients of North-Pakistani cuisine
Ingredients including coriander, peppers & tomatoes, perfectly fused to create a medium hot dish
£5.95
Balti Prawn
A homemade style curry with fresh spices & ingredients of North-Pakistani cuisine
Ingredients including coriander, peppers & tomatoes, perfectly fused to create a medium hot dish
£5.95
Balti Chicken Tikka
A homemade style curry with fresh spices & ingredients of North-Pakistani cuisine
Ingredients including coriander, peppers & tomatoes, perfectly fused to create a medium hot dish
£6.50
Balti Lamb Tikka
A homemade style curry with fresh spices & ingredients of North-Pakistani cuisine
Ingredients including coriander, peppers & tomatoes, perfectly fused to create a medium hot dish
£6.50
Balti King Prawn
A homemade style curry with fresh spices & ingredients of North-Pakistani cuisine
Ingredients including coriander, peppers & tomatoes, perfectly fused to create a medium hot dish
£9.95
Korma (Mild) Chicken Tikka
£6.50
Kashmiri (Mild) Vegetable
£4.75
Kashmiri (Mild) Chicken Tikka
£6.50
Kashmiri (Mild) Lamb Tikka
£6.50
Kashmiri (Mild) King Prawn
£8.95
Cashew Nut Pilau Rice
Contains nuts
£2.95
Biryani Chicken
A biryani is a special preparation of saffron rice prepared together with meat or vegetables in puree ghee with a blend of delicate spices & herbs
It offers a self contained dish & is served with vegetable curry
£7.95
Biryani Lamb
A biryani is a special preparation of saffron rice prepared together with meat or vegetables in puree ghee with a blend of delicate spices & herbs
It offers a self contained dish & is served with vegetable curry
£7.95
Biryani Prawn
A biryani is a special preparation of saffron rice prepared together with meat or vegetables in puree ghee with a blend of delicate spices & herbs
It offers a self contained dish & is served with vegetable curry
£7.95
Biryani Chicken Tikka
A biryani is a special preparation of saffron rice prepared together with meat or vegetables in puree ghee with a blend of delicate spices & herbs
It offers a self contained dish & is served with vegetable curry
£8.95
Biryani Lamb Tikka
A biryani is a special preparation of saffron rice prepared together with meat or vegetables in puree ghee with a blend of delicate spices & herbs
It offers a self contained dish & is served with vegetable curry
£8.95
Biryani Vegetable
A biryani is a special preparation of saffron rice prepared together with meat or vegetables in puree ghee with a blend of delicate spices & herbs
It offers a self contained dish & is served with vegetable curry
£5.95
Biryani Special Mixed
A biryani is a special preparation of saffron rice prepared together with meat or vegetables in puree ghee with a blend of delicate spices & herbs
It offers a self contained dish & is served with vegetable curry
£8.95
Thursday & Sunday Special
1 poppadom
Onion salad
Any starter
(King prawns £2.00)
Any main course from traditional dishes
(Lamb tikka £1 extra, King prawn £3.50 extra)
Pilau rice & plain naan
£9.95
Tandoori Mixed Grill
Chicken tikka, lamb tikka, seekh kebab, tandoori chicken & king prawn
£9.95
Contact Us
Find Us
8 Cobblers Hall, Carers Way, Newton Aycliffe, DL54SE
We deliver to
DL17, DL4, DL5